Commercial Painting in Melbourne

For Commercial Painters in and around Melbourne, APMG Painting is the company to trust!

At APMG we specialise in both interior and exterior painting and will work with your budget and schedule to minimise interruptions within your business. We offer commercial painting services for new constructions, as well as any type of restoration or upgrade project.
We have provided a value for money result to hundreds of new and existing office buildings, warehouses and distribution centres all throughout Australia.
APMG are fully insured, licensed and registered with Workplace Safety and Master painters Australia, which means that you and our commercial painting team are always protected.
Our top-quality commercial painting services are affordable and suitable for any size of project.
From a two-man two-day project to offering boom, scaffold, scissor and roof rigging services - our projects range from small to very large buildings, inside and out.
We have no limits on the size of project we can complete.
Some of our complicated projects require a high level of surface knowledge and an awareness of material history. Our skilled team are professionals and have a successful track record of understanding the surface to be painted and decide the right processes and method to complete the project effectively.
APMG practice commercial painting standards and can include hot or cold power washing, steam cleaning, sandblasting, abrasion and chemical treatment, where required.
We respectfully manage our projects through good communication and prior prepared Safe Work Method Statements and staging. We make sure everything is in order and arranged prior to the beginning of the project so there are no setbacks or complications down the track. This ensures better quality control and unforeseen costs savings on any projects.
Office Painting
Adding a coat of paint is a sure-fire way to modernise and improve the look of your office. VIEW EXTERIOR PROJECTS
High-Rise Building Painting
We have no limit to the size of commercial high-rise buildings we can paint! VIEW EXTERIOR PROJECTS
Warehouse Painting
Let APMG provide a professional finish to the interior and exterior of your warehouse! VIEW EXTERIOR PROJECTS
Industrial Painting
As Master Painters, we have the expertise to paint all types of industrial premises. VIEW EXTERIOR PROJECTS
As fully insured, licensed and registered with Workplace Safety and Master Painters, we ensure your staff and our commercial painting Melbourne crew are protected at all times.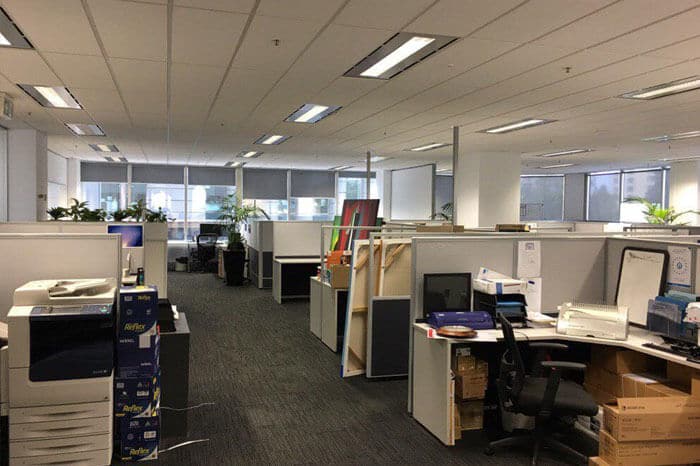 At APMG our office is clean, bright and this reflects our service to our customers. We make the right first impression and we want you to do the same.
A well-maintained façade or internal office space creates a lasting impression. A fresh coat of paint can increase productivity and build good morale by highlighting a clean and comfortable workplace creating positivity for your workers and your visitors.
Our office painting team can patch, plaster, render, and even install vinyl sign writing. We paint offices, kitchens, common areas, bathrooms, ceilings, walls, doors and door frames.
Let our APMG colour consultant meet with you to bring forward our ideas and make the your office fresh and active.